The new Fanvil H Series Hotel IP Phones are on their way so now would be the perfect time to take a look at what they have to offer… The new Fanvil H2U, H3 and H5 Hotel phones are available in black and white. They are stylish and take innovation to the next level.
The Fanvil H2U Black & White
Available colours: black and white
A stylish, small design with a comfortable grip
HD audio with wideband codec G.722 and Opus
10 customisable speed dial keys
1 programmable DSS key to achieve remote door unlocking
A speaker on handset which enables multitask in hands-free mode
Desktop/wall-mounted mode for rich application scenarios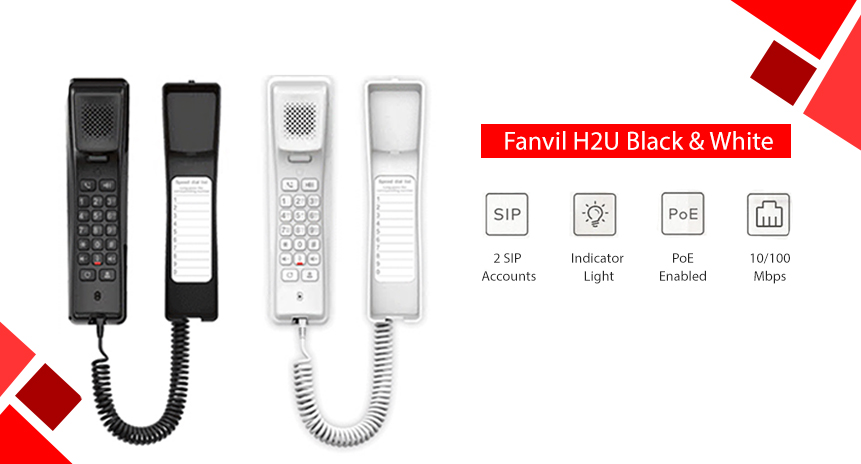 The Fanvil H2U Hotel IP Phone can be used in a variety of scenarios. With 10 programmable keys and the highest working humidity of 90%, Fanvil H2U enables you to customise speed dial numbers for different application scenarios at hotels, especially the bathroom. Make speed dials with a Fanvil H2U IP phone in the corridor of a public area when there is an emergency. Cashiers can use the hands-free mode to communicate with the administrator centre whilst still delivering tasks in store and the Fanvil H2U can seamlessly connect with SIP intercom and door phone to be used as an indoor monitor, achieving remote door unlocking.

The Fanvil H3 & H5 White
An elegant white design perfect for a hotel room
6 programmable keys for customised room services
3.5'' colour screen to display the hotel information (only for H5)
1 USB charging port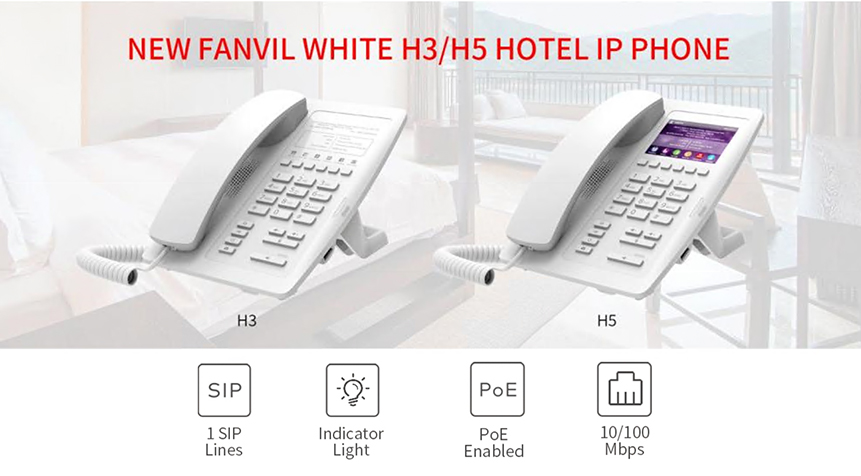 Contact your UK Distributor if you wish to place on backorder. Further, If you require more information about Fanvil products, contact sales@fanvil.co.uk